This is one of our top-line mattresses. It's a 34 cm Box top design, turn free mattress. Mattress specifications are meticulously derived and crafted to offer unprecedented luxury and comfort.
It's an amazing amalgamation of technology and top-class raw material that makes this mattress luxurious and most sought after product.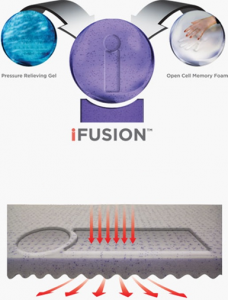 The mattress is equipped with iFusion technology that further enhances the benefits of Viscogel foam or memory foam. King Koil's cool gel material is infused in Viscogel foam to manufacture this extraordinary foam. The cool gel has inherited cooling properties and it also opens the cell structure of memory foam, thus allowing better air circulation in the foam and reduces the surface heat.
The combination of open-cell memory foam and pressure-relieving gel cells results in an optimal temperature sleeping surface while still conforming to every curve of your body. This technology allows maximum breathability and airflow. Pressure-relieving gel cradles and cools your body, providing deepest comfort and restoration.
This mattress also showcases unique construction in Quilting. Latex sheet is quilted along with Visco gel foam and polyester wadding to provide a heavenly comfort; A technological expertise only available with King Koil in the region.
This unique construction in quilting provides additional comfort and also relieves pressure from the differential pressure creating zones of the body.
The mattresses top panel has Silk Fabric, made from 50% natural silk material. Silk has a natural protein structure and is therefore hypo-allergenic. In addition, it has thermo-regulatory properties, giving proper care to skin and hair. The high breathability of the fabric ensures optimal comfort. Silk is hypo-allergenic. It has an innate resistance to dust mites, mold, fungus and mildew. It also has flame retardant properties, making it safe and ideal for children and babies. Silk also reduces Body impressions formed on the mattress due to continuous usage.