This is a Standard, 25cm height, Bonnell Spring mattress. It is equipped with Advance Pressure Support System (APS) for providing additional support.

APS Technology: Advance Pressure Support System (APS) technology is a revolutionary support in the mid one-third of the mattress to give additional support to the middle one third of a human body where it is heavier. APS system provides an upward thrust when pressure is applied on this portion giving that additional support.
Bonnell Springs: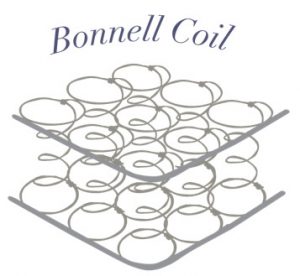 Bonnell springs are hourglass-shaped springs manufactured from high Carbon steel wire, and the ends of the wire are knotted or wrapped around the top and bottom circular portion of the coil and self-tied. All the individual spring are then tied together using a helical wire, and the completed structure is reinforced with a strong border wire to retain shape. These coils are then individually heat treated for inducing spring action and flexibility. This unique technology provides a sturdy, stable and intrinsic spring unit.
It has unbeatable Stability, Strength and Durability.
Its responsive and supportive
It products firmer intrinsic unit which is good for spinal alignment and back support.