Repose is a standard turn free mattress with 30 cm height. It features King Koil's I fusion technology, HR foam and Pocketed Springs. This Mattress can also work with an adjustable base foundation. Mattress core has our Premium pocketed springs, which is manufactured from top class raw materials sourced from Europe and manufactured in-house using Swiss machinery. Therefore our Pocketed springs are durable, sturdy and consistent.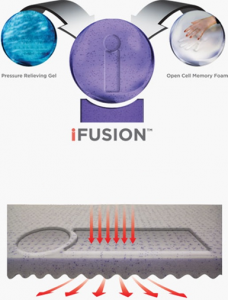 iFusion Technology: The mattress is equipped with iFusion technology that further enhances the benefits of Viscogel foam or memory foam. King Koil's cool gel material is infused in Viscogel foam to manufacture this extraordinary foam. The cool gel has inherited cooling properties and it also opens the cell structure of memory foam, thus allowing better air circulation in the foam and reduces the surface heat.
HR Foam: High Resilient Foam has the ability to bounce back after being compressed, it was designed to push up as your weight pushes down, giving each part of your body individual support. Each tiny cell acts as a spring and because the cells are so resilient and strong it reduces partner disturbance. HR foam doesn't sag and it supports & breathes quietly. It is also a high-efficiency insulator, non-allergenic, dust & mildew resistance, and can maintain warmth in the winter or coolness in the summer. 
King Koil Adjustable Bed Foundation: With advanced and improved technology, Electra bed will let you choose your own style of comfort. With a push of a button, this bed will freely adjust to any position or activity you desire: you can dine on your bed; use your laptop and surf the net; read comfortably; lie down while watching the TV; or simply relax and enjoy a nice massage on your bed.